FrontPage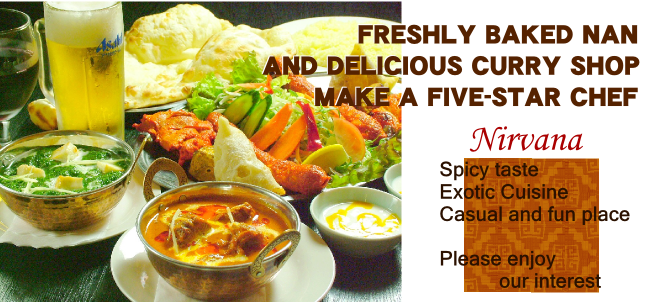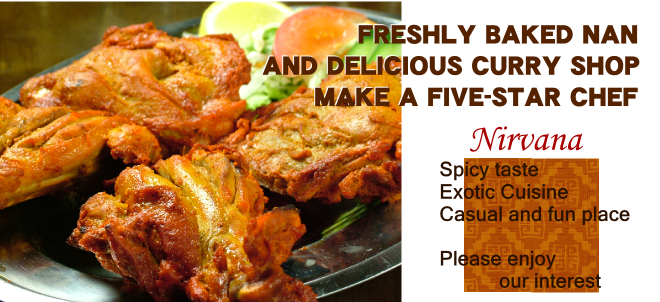 TOPICK & INFORMATION
We have only two branches in Morioka. That is on Odori street
and BHATTI (Uchimaru).
December 26, 2019 New year closing schedule
Nirvana will be closed for December 31st dinner time & January 1st full day.


November 09, 2019 Notice of new branch opening
On November 11, 2019 (Monday), a new branch, BHATTI, will open at 4-2 Uchimaru, Morioka, Iwate !
We look forward to your visit. Thank you for your consideration.
June 17, 2019 10th Anniversary of NIRVANA
Since we opened in April 2009, this is the 10th year we are serving delicious Indian, Nepalese and Asian cuisine to our valued customers.
To commemorate our 10th anniversary, we will be introducing a lot of special offers, live events, special belly dance shows and other attractions the whole year round.
We will be updating the information on our homepage so please don't forget to check it out.


June 17, 2019 Students LUNCH
Students discount weekdays only
Today's lunch \500 with (naan or rice Choice)


Welcome to Nirvana of The Nepal India Food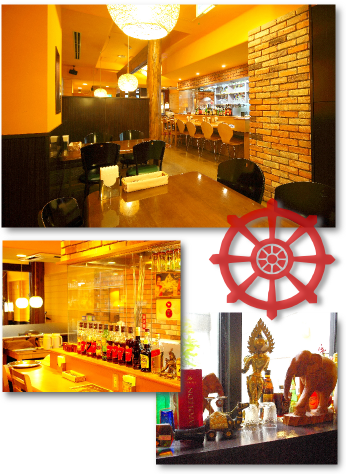 Our shop is a restaurant of the Nepal and Indian cooking.
You may call it Nepal-India-Asian dining-room.
We are cooking the same thing as the dish which Nepal and Indians are always eating in their country.
Tandoor (oven), baked in the famous Tandoor dishes, Momo-style dumplings in Nepal, many also are skilled chefs cook knows well the taste of home.
Please feel free to come anytime, much taste to Indian cuisine and Nepal, please enjoy.
We'll be waiting for you.
 
Key factor for our taste, the variety of spices.
Optimum combination of them, mix it with various ingredients are produced all sorts of rich taste.
Our delicious spicy dish is not only "hot" food, so is one of the factors that favor to you all.
The spiciness can be adjusted to four levels, so even more spicy you want, you do not like too spicy, you can fully enjoy the flavor of your choice.We also offer children like sweet flavors.
We do not accept credit cards and only accept cash. Sorry for any inconvenience and thank you for your understanding.


Please enjoy our finest curry for lunch and dinner.

Curry is our recommended menus. You can eat both lunch and dinner.The types of ingredients and spice mixture, we offer 20 different curries.Our curry is only one flavor in Morioka. It can not only shop but to eat.
Please also enjoy freshly baked tandoori naan with curry.
Nan is a sticky texture and filling.
You eat it and say, "I have never eaten such delicious Nan ever."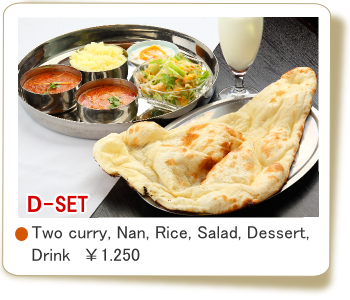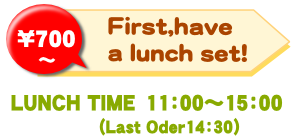 The lunch menu was set filling curry and nan are recommended!
You can choose flavored milk tea spiced yogurt and lassi.
These are fit to drink with curry.